THE GREAT RESET: Round II Conference via Zoom Saturday, December 5, 2020
8:00am-10:30amPST/ 11:00am-1:30pmEST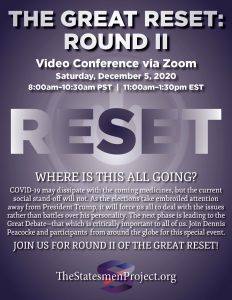 WHERE IS THIS ALL GOING?
COVID-19 may go away with the coming medicines, but the current social stand-off will not. While the election will take embroiled attention away from President Trump, it will force us all to deal with the issues rather than battles over his personality. The next phase is leading to the Great Debate; that is what is critically important to all of us. Join Dennis Peacocke and participants from around the globe for this special event.
This event is free but advanced registration is required. Please register for this event with Kim Beary via email at kbeary@gostrategic.org
Zoom Meeting details will be sent to you. Registration is required by all attendees.