2017 Statesmen Event
2017 marked the fourth annual Statesmen Event as leaders assembled again this September in Dallas, Texas. Over these past four years, we have made significant progress in defining our goals, developing our infrastructure, and establishing Focus Groups and their leadership. We are equipping to more completely fulfill the charge in Matthew 28 to disciple the nations.
During this last year, we have achieved sufficient clarity and organizational objectives to begin to go public with the Statesmen Project to broaden and deepen our influence. Our recent meetings in Dallas made it very clear that God's favor is upon these efforts.
Although we have focused on developing the initiative first in the United States, influencers representing numerous other nations were in attendance to learn more about The Statemen Project's integrated strategy to take back to their own countries. Belize, Bolivia, Brazil, Canada, Colombia, France, Guyana, Mexico, and Nicaragua were among the countries represented.
These meetings are not conferences in the usual way; they are actually working projects where leaders from all over the United States and beyond gather to flesh out active strategies in four critical areas:
1. Prayer Networks
2. Citizen Education
3. Community Action Councils
4. Public Policy
Each of these Focus Groups is dedicated to strategizing, networking, and equipping to strengthen Christians' capacity to serve. We are extremely happy with what we experienced this year as each Focus Group succeeded in increasing and refining both their vision and competency to accomplish the goals of the Statesmen Project.
Last year, we began to align with other global groups who are working in like-minded ways to practically disciple nations through education, leadership development, and social action. This year, the effect of these alliances was clearly evidenced by the numbers of nations the Statesmen Project and its partnerships are impacting within North, Central, and South America, Europe, Asia, Africa, Australia, and New Zealand. As we discussed both the diversities of our projects and the similarities of our core goals, principles, and strategies, it was very clear that a global movement affecting significant numbers of people is formed and growing; many are referring to it as the "discipling nations" movement.
The conference was evenly divided between working time for the focus groups and the plenary sessions in which speakers raised the bar from all previous years. An inspirational highlight of our three days together was a keynote address by Apostle Eduardo Cañas, a collegial leader from South America who represents a coalition that has unified nearly 80% of the evangelical church in their nation! We watched on film hundreds of thousands of Christians marching together for social reform to strengthen the role of the family in every major city in their nation. It was a stunning experience for all of us. We saw the power for social change in action when the Church unifies around core issues of moral choices, local decision-making, and the benevolent role of Christianity within culture. As this South American leader poured out his heart and his passion to see righteousness confront the secularization of culture, we were all overwhelmed and inspired with a vision for what God can do through the Statesmen Project as it continues to network, equip, and encourage international alliances into the future.
Will you consider donating to
maintain and expand our work?
Now is our annual Budget Funding Drive. To make a one-time gift for the 2017-2018 year or to set up monthly giving, click the
Make a Donation
button. You will be joining with saints around the world in our efforts to bring the blessings of Christ's way, truth, and life to the world.
Donations may also be made by phone at: 707.578.7700
Checks may be mailed to:
GoStrategic, 1221 Farmers Lane, Suite E, Santa Rosa, CA 95405
---
Plenary Highlights

 It was incredible how "meaty" the plenary sessions were at this year's Statesmen Event. Here are some other highlights from our speakers:
Statesmen Founder, Dennis Peacocke, shared on the need to understand the process of transformation and the major issues that must be addressed by the leadership of a nation to bring about genuine transformation. He encouraged us to remember two things:
In this beginning phase, the essential issues to be transformed must be clearly defined.
We need to prepare ourselves emotionally for a marathon not a short sprint; social change can take place rapidly, but only after defining events have initiated change.
Pastor and historian, Dr. Paul Jehle, took us on a journey through the geography of Jesus' journeys and evangelism. Jesus' words, "neither do I condemn you," to the adulterous woman in John 8 were applied to our pride as a Christian nation and how we are dealing with the moral and ethical problems we have as a society. The new conversation was referenced through both slavery and the opiate epidemic.
With her strong prophetic gifting, Dr. Patti Amsden, spoke on "The Spiritual War in Our Heavenly Places." She offered a clear exposition on the parallel nature of the opposing forces and our need to understand them in the battles for Christ's way, truth, and life for the world.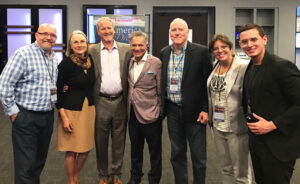 Dr. Mark A. Beliles, President of the Global Transformation Network and America Transformation Company, shared the scale of what is already going on around the world in the discipling nations movement. For over 20 centuries, Christians have proved how to do this successfully and he outlined the "best practices" for this.
Noted economist and lawyer, Marc Nuttle, gave an incredible description of the core social and economic issues which contribute to the increasing instability of the international economic world, as well as the complexities which faces the United States politically as both major parties fragment with internal divisions.
Investment analyst, Uli Korscht, helped us see "what caused the causes" in regard to our current world economics. For example, in the US, 50% of all non-government jobs are with small businesses whose loans are through community banks rather than multi-national corporate banks. The time burden of regulations is causing these banks to have to close; they do not have staffs of lawyers to review the 700 pages of Dodd-Frank regulations. Another is "debt" is only what they are supposed to pay each year in many of the reports we see. Jan Peacocke noted, "That brings the mortgage down quite a bit!"
Free videos of the 2017 Statesmen Event are available to watch at the following link:
---
SENDA Citizen Education Project
"When a foreigner resides among you in your land, do not mistreat them. The foreigner residing among you must be treated as your native-born. Love them as yourself, for you were foreigners in Egypt. I am the LORD your God." -Leviticus 19:33-34
An exciting new program led by Statesmen member, Jorge Lorenzana, has emerged out of the Statesmen Project Focus Groups.
Senda
is the Spanish word for "path"; the mission of the
SENDA Citizen Education Project
is to equip churches with an outreach program that helps qualifying immigrants on their path to becoming US citizens with ESL courses, naturalization test training, empowerment for higher education, and education on the culture, values, and historical foundation of our country. Knowing those coming into citizenship are, in essence, marrying the founding principles and documents of our nation, the Church needs to be at the forefront of a revolution in citizenship education and immigration reform. This is an amazing opportunity for Christians to be a loving and welcoming family to our communities by helping millions understand what it means to become American citizens and the privileges and responsibilities this entails so they may become participants in its prosperity for generations to come.
For more info on SENDA, please contact the Project Director:
---
A Christian Response to Hurricane Harvey
Doug Stringer, Statesmen member and Founder/President of the global network, Somebody Cares, flew up to Dallas, Texas from his base in Houston to address our group at The Statesmen Event on Saturday night. He highlighted the massive influence that Christian churches and organizations have had in bringing aid and comfort to hundreds of thousands of people affected by Hurricane Harvey. Doug's group specializes in disaster response in the US and abroad, and is one of the significant alliance members of The Statesmen Project. Within days of the disaster, Doug was interviewed by major news agencies on Somebody Care's swift coordination of disaster response efforts through their vast network in the Body of Christ. Hurricane Harvey highlighted how deeply Christian organizations are embedded in first responses to disaster events, and we learned from Doug's edifying examples on how to give and serve in the Spirit in practical ways.
---
What's New

Sign up now for the
Teaching of the Month
and receive a new or classic teaching from Dennis Peacocke each month for an entire year for just
$65!
---
Prayer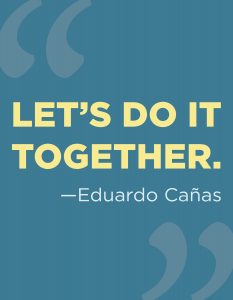 We Appreciate Your Prayers for:
The Statesmen Project and its work on Community Action Councils, the SENDA Citizen Education program for US citizenship, and the building of national prayer teams. 
Publication of and direction for Dennis' new book on the subject of tending your garden.
The translation of Doing Business God's Way into Japanese.
Prayer covering over GoStrategics's staff, board, school facilitators, and students in the US and abroad.
Thank you for your faithful prayers & support!

---
GoStrategic
phone: 707.578.7700 | email: info@gostrategic.org | web: www.gostrategic.org
www.businessleadershipschool.org | www.strategiclifetraining.com
1221 Farmers Lane, Suite E, Santa Rosa, CA 94931
---