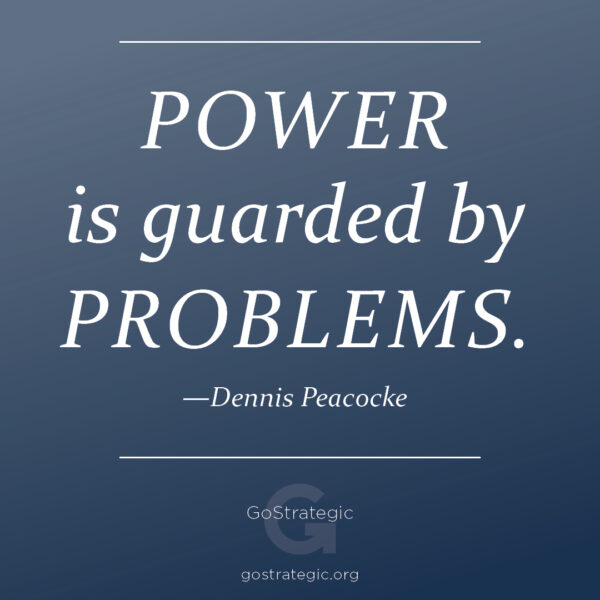 Power is Guarded by Problems is a well-known catechism for those familiar with the ministry of GoStrategic.
This simple phrase is a helpful mantra as we engage the inevitable challenges of life, both big and small. The world's approach to problems is often avoidance and "How do we get out of this?" versus God's perspective of embracing problems for growth and "How can we benefit from this?"
Problems are opportunities for change, creative thinking, character development, and sometimes even doorways to destiny as we see in many biblical accounts, such as that of Joseph and Esther.
Problems produce pressure which reveals our place in the maturing process. God wants to give us good things, but in His love and wisdom, He always does so in a way that produces growth and maturity. How we respond to problems not only matures us but can serve as encouragement and inspiration to others. Because God's approach to problems is so contrary to the world's, sharing His perspective and the evidence of its application in our lives presents incredible opportunities for evangelism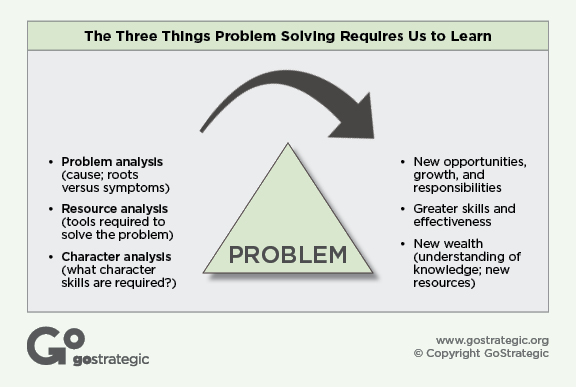 GoStrategic's Schools delve deeply into these concepts and tools. We learn that effective problem-solving involves:
Discerning relevant questions and concepts
Identifying the origin and nature of the problem: relational vs. executional vs. conceptual (or any combination of these)
The application of godly principles
Problem-solving plays a vital role in our responsibility as leaders and our various spheres of relational influence—from families, friends, and neighbors to our communities, cities, and nations. Learning how to leverage life's challenges produces both relational and systemic growth. What a powerful revelation to realize that God uses these circumstance not to hold us back but as the very impetus for our refinement and advancement!
For more insight into problem-solving, we invite you to watch these short videos from GoStrategic Founder, Dennis Peacocke, and Executive Director, Katherine Gallagher:
---