Ministry Partner Highlight: Gerald R. Chester, PhD
Dr. Gerald Chester is profoundly aware of the principles of God's Kingdom as they are applied in the realm of business, personal discipleship, and spiritual maturity in general. He is our senior GoBusiness Facilitator and a highly valued source of counsel both for me personally and for training leaders. —Dennis T. Peacocke, GoStrategic Founder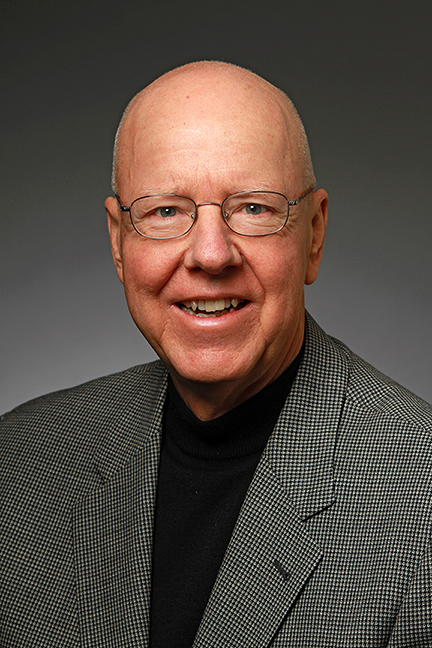 The ministry of GoStrategic and its schools depend upon those who hear and resonate with its sound, carry the message, and pass it along to others. Our mentorship model encourages learners not only to be trained, but to continue to grow by training others. The School of Business Leadership has been blessed with one such person that has walked this out to a level of masterhood. A seasoned Facilitator, Dr. Gerald Chester has volunteered his time for decades, faithfully leading and helping develop our GoBusiness courses, speaking at events, teaching workshops, recruiting students, mentoring Facilitators-in-training, and integrating the concepts and principles into every aspect of his life, business, and relationships.
Gerald and his wife, Carol, were born 18 months apart in the same hospital in Dallas, Texas and attended the same high school. They met in band practice. Having a car, Gerald asked Carol if she needed a ride home. There, he discovered her father's extensive biblical library. Her father was a scholar, and just the person Gerald, having a growing number of questions in his heart, needed to mentor him. He recalls, "Carol's father was a biblical worldview thinker who became my first spiritual father. I was greatly blessed to be discipled by him in preparation for marrying his daughter. We have now been married 51 years."
Gerald chose to do his post graduate work at the University of Texas to stay near family. His specialty was plasma spectroscopy, and both his master's and doctoral work were published. In 1965, his initial employment had him on trajectory to fulfill his dream of being involved in the US space program, however, the nation's economic troubles squashed this dream and prospective jobs. He began working with his father, a mechanical contractor—that is, until the Lord opened his eyes to being a business consultant. Gerald then developed a consulting firm.
In the spring of 1990, Sojourn Church hosted a seminar on GoStrategic's Freedom Series. Dudley Hall had recommended it to them. Gerald was there that day at Sojourn Church, trained both in the "natural" and the "spiritual," listening to the sound of the Kingdom and its message that integrated the two. Gerald and Carol were in a wounded place at the time, and Dennis Peacocke's message brought them healing. An ardent learner, Gerald got as involved as he could with GoStrategic. When the School of Business Leadership School (GoBusiness) was being developed, he became involved and one of the inaugural Facilitators.
Gerald continued his consulting work, and the Kingdom message changed his perspectives and priorities as he sought to help his clients. By the end of the 1990s, he realized the extent of his transforming experience—his thinking had become holistic instead of dualistic.
It was increasingly clear that personal spiritual development and relationships were a necessary foundation for the success his clients were seeking. (As many have experienced, the most unexpected effect of the GoBusiness school initially is a better marriage and family.) To better serve his clients in this way, Gerald developed Strategic Life Alignment (SLA), what he calls a deeper dive into the personal application of principles in your life, as well as the Beyond Babel Model, a biblical standard for building organizations. This has set his consultancy apart in the crowded market of business consultants. He is unique in having the following prerequisites for any client—they must engage in GoBusiness, SLA, and Beyond Babel training as a foundation for the consultations.
When asked about his hopes for the future of his business and ministry, Gerald places generational transfer at center stage. He shares, "Given the current global assault on Christianity by the spirit of anti-Christ, my hope is to preserve the biblically based Kingdom message, championed by Dennis, through continued study and training of the next generation to prepare them to rebuild the culture once the current cultural experiment fails."
He has developed a loyal following of students who appreciate the time, experience, and wisdom and he sows into his classes. When asked to describe their relationship with their Facilitator, one student shares, "Dr. Gerald Chester does an amazing job facilitating these groups. I truly value and appreciate the truths and inputs he has! I see Gerald as a father figure in my life and value his mentorship and advice." Another says, "Gerald is a very godly man. Answers and advice given by him are direct to the point and illuminating. I have great trust in him." Yet another responds, "I consider Gerald my mentor and a source of wisdom and godly counsel. I have grown a lot from my relationship with him."
GoStrategic is incredibly grateful for Gerald's service over the years and ongoing commitment to training and mentorship. We highly recommend his courses and materials for those looking for training. For more info, please visit the following links:
Strategic Life Alignment (SLA) | Strategies@Work, LLC | Gerald's Online Store
Gerald R. Chester, PhD is president of Strategies@Work, LLC, a management consulting firm focused on helping organizations achieve excellent performance through the implementation of biblical values and principles. Dr. Chester is author of the book, Beyond Babel, and writes a monthly newsletter on topics pertaining to the application of biblical principles in the workplace. Since 1987, he has provided advisory services to over 60 companies and organizations. He holds a PhD in physics from the University of Texas. Gerald and his wife, Carol, reside in Plano, Texas. They have two grown daughters and three grandchildren.
---
Global Partnerships:
GoStrategic was delighted to hold its first ever meeting with all our international school partners via Zoom earlier this month. In this virtual meeting, we connected with 12 different affiliate partners from 9 different countries and representing 6 different languages. Partners from Singapore to Costa Rica to Europe and beyond met virtually to connect and determine how we can better partner together. All our affiliates are running the schools in their respective countries and regions, some just having started in the last few years, while others have been active for over 20 years! A common theme was gratitude for the process of mentoring students and seeing lives transformed. A common struggle is finding leaders willing to engage the process. These virtual gatherings will now be ongoing with an eye toward global strategy, support, and comradery. We believe these connections are significant in the Spirit and will play a huge role in continuing to expand us globally in the Kingdom perspective and fill the need for ongoing training and connection.
Interested in learning more about our global partners? Click here to view some of their websites: https://www.gostrategic.org/contact/
---
Calendar:
---
---
Prayer:
Your prayers are appreciated for:
* GoStrategic's summer fundraising & support
* Translation of the GoLife curriculum into Spanish
* Translation of On the Destiny of Nations book into Spanish
* The formation of GoStrategic's School of Kingdom Citizenship
* Prayer covering over GoStrategics's staff, board, school facilitators, and students in the US and abroad
Thank you for your faithful prayers and support!
---
GoStrategic | School of Business Leadership | School of Strategic Living | The Statesmen Project
---