2016 Dallas Statesmen Conference



This conference exceeded expectations of those attending. It was the first meeting of the Statesmen Project open to the public. The fruit was very evident, both in terms of the quality of the plenaries and the energetic "buy in" for activism that came out of the focus groups. The principles upon which The Statesmen Project was founded were indeed given substance. Several plenaries each day were live streamed and are now available at: http://bit.ly/Sojo2016statesmen
The active work of the event was done in four focus groups, each of which was extremely well planned and executed. New participants were recruited for the materials and services which will be coming out of each group for years to come as Kingdom principles are introduced into the fray of public discussion. Here is a précis for each of the focus groups:
1) The Prayer Focus Group had a pioneering Ecclesia Prayer Convocation that was video recorded as an instructional example and has the potential to significantly add new dimensions to the global prayer movement. The main thesis is to take biblical principles on public policy and present them back to the Lord for our mutual process of binding them together in heaven and on earth (Matthew 16:19).
Mike Massa, leader of the Prayer Focus Group, expounded, "The Statesmen Project has launched a prayer strategy that is synergistically fortifying educational, community service, and public policy efforts that mobilize people into strong levels of Scripture proclamation. This biblically forged plan is substantial (carries substance) and blends heavenly mandates with practical expressions. It will add new strength to the prayer movement and will mature us into fresh vistas of understanding and courage."
2) The Citizen Education Focus Group further refined the strategy surrounding the materials we have already developed and that are being used around the world, and clarified our vision for future products. Dr. Simon Mould who is heading this project shares, "We are working on making our materials more succinct so our users can articulate the concepts more effectively." In particular, they examined how to further refine their podcast format and the materials being pioneered for these podcasts.
3) The Public Policy Focus Group is preparing a set of seminars to be held in 2017 that should significantly advance the public conversation. The Public Policy group's leader, Doug Tjaden explains, "We will introduce serious dialogue regarding the impact that principled monetary policy would have on the nation. This will be but one example of how The Statesmen Project can affect change in major systems that today have strayed from their original limited mandates. We anticipate expanding the dialogue to include education and healthcare in 2017."
4) The Community Transformation Focus Group held its second meeting on the build out of a national alliance of City Action Councils doing community development across the nation. This is a means to take those cities to new levels of fruitfulness through cooperative dialogue and networking.
Hope Taylor, Community Transformation group leader, reports, "The group spent 10 hours together in two breakout sessions with approximately 35 leaders representing the United States, Canada, and Puerto Rico. Given the group's assignment of transforming communities and cities through service, Kingdom relationships, and strategic action, it was significant that leaders from 30 cities were actively engaged."
A key development was the progress experienced in building a leadership alliance. The task of discipling a nation requires a national relational alliance with shared prayer support, the exchange of effective strategies, and a measurable level of cooperation. These sessions were instrumental in seeing this alliance formed between leaders with a diverse variety of experiences at the local level in serving their communities. The City Action Council vision requires those who can work in a multi-jurisdictional setting involving the civil government, business community, and church. Several success stories of jurisdictions working together not only deposited encouragement in the room, but also served as a catalyst to building nets at the local level to catch what God is saying in a region.
Plans were made to host several webinars in 2017 where the alliance will strengthen relationships as well as help equip leaders for city transformation. Topics being considered include: How do I get involved in city transformation in my community? What can I do to advance our current city transformation efforts?
There were so many gems in the plenaries from our ten speakers. We strongly urge you to feast for yourself on the incredible insights from our national and international speakers:
Dennis Peacocke DP2 DP3 – GoStrategic & Statesmen Project Founder
The State of the Union
Chad Connelly – Director of Faith Engagement Republican National Committee
What We Can Learn From This Election
Dr. Doug Stringer – Founder of Somebody Cares International
The Power of God's People As Servant-Priests
Kenn Gill – Team Leader of The Ripple Centre in Calgary, Canada
The Value of Prophetic-Apostolic Investments
Dr. Joseph Mattera – Founder of Mattera Ministies International
Scriptural Foundations for Future Strategies
Marc Nuttle – Lawyer, Author, Consultant
The Global Picture, The Global Challenges
Charles Simpson – Founder of Charles Simpson Ministries
Strengthening Our Spiritual Roots in Cultural Crisis
Dr. Lance Wallnau – Director of Lance Learning Group
The Prophetic Alliances That Must Take Place
Charles Flowers – Pastor of Faith Outreach Center International, San Antonio, Texas
The Home-Base Target: Our Cities 
Tim Throckmorton – Pastor of Crossroads Church, Franklin Furnace, Ohio
The New Normal
____________________________________________________________
2017 Transforum – Save the Date!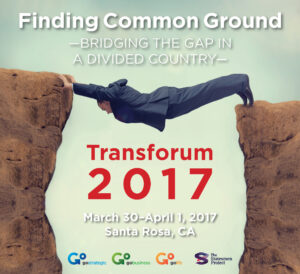 ____________________________________________________________
Giving and Receiving
by Jan Peacocke

Giving and receiving has a long history and breadth of application in the culture of the United States of America. That is because it is a primary principle seen in the Christian faith. Salvation is a gift lest anyone boast. We are told to receive the Holy Spirit. Paul did not want to be "paid" for his ministry (he would make tents when it came to that). But, he rejoiced in "receiving" the support of those who had benefited from his ministry so that their support allowed him to serve others. The very concept of the tithe was one of recognition that all was from God and you are only giving back–or perhaps better, the more current phrase, "paying it forward." Giving is a foundation for rejoicing in life. Which is sweeter, a gift or a purchase? The love factor is nourished through giving and receiving.
Thus we come to the current state of "charity" in our nation. It is interesting to note the word has the historic meaning of love. Increasingly, we see "right" replacing "need." When government takes over, the historic role of the church and other voluntary associations in areas such as education, hospitals, other medical services, and ministry to the poor and needy, we find that love connection is usurped by "qualifying" for the services. Its ministration is one of buying and selling, not giving and receiving. The healing touch of love–real charity–is removed.
____________________________________________________________
We Would Appreciate Your Prayers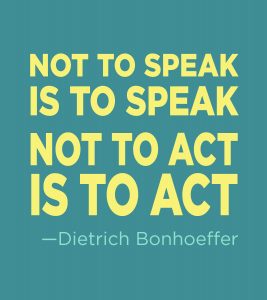 * For substantial increase in our funding before the end of the year to meet our budget. Click here to donate.
* The final editing, proofing, and release of Dennis' next book, tentatively titled, Tending Your Garden.
* On November 8th, Dennis addresses a global assembly of international leaders in Dallas, Texas.
* New levels of networking in The Statesmen Project based on the result of our current elections.
* Prayer covering over GoStrategics's office staff, our school facilitators and students, and our affiliate groups abroad.
Thank you for your faithful prayers & support!
____________________________________________________________
GoStrategic
phone: 707.578.7700 | email: info@gostrategic.org | web: www.gostrategic.org
www.businessleadershipschool.org | www.strategiclifetraining.com
1221 Farmers Lane, Suite E, Santa Rosa, CA 94931
---