Dennis Peacocke Honored at ICAL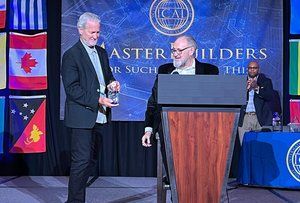 The International Coalition of Apostolic Leaders (ICAL) held its Master Builders Global Gathering in November 2022 in Dallas, Texas. GoStrategic has been part of ICAL since its inception in 1999.
At the annual award ceremony, Apostle John Kelly presented various awards to members of distinction. At the conclusion, Dennis Peacocke was the unexpected recipient of an inaugural strategic leadership award in recognition of his efforts developing apostolic strategies and initiatives to advance the Kingdom of God. Dennis was visibly touched by this honor and the award, the first of its kind.
GoStrategic Board Member, Hugh Cunningham, who was also in attendance, reflects, "At this time in history, there's nothing God's leaders and people need more than strategic thinking and productive initiatives. There aren't many who prophetically and practically engage in these vital practices like our fully engaged Founder [of GoStrategic]. For so many of us, Dennis Peacocke introduced the concept of strategy, and he's certainly not through leaving God's imprint on the nations."
---
---