Transforum 2021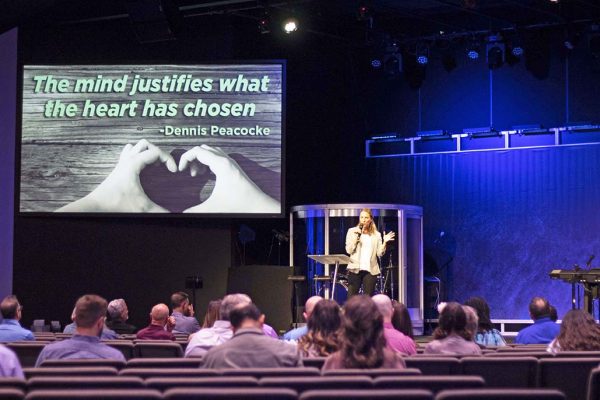 The Transforum 2021 Event, September 23-25 in Dallas, Texas, was an incredible time of fellowship, teaching, and activation. The underlying theme of applied worldview, transformation, and the importance of community permeated the gathering. The diverse slate of keynote speakers addressed the broader topics with expert insight while the breakout workshops and Making It Real presentations brought practical application on culturally relevant issues and topics.
Left: Keynote Speakers Dennis Peacocke, Katherine Gallagher, Dr. Vishal Mangalwati, Dr. Paul Jehle, Adam Peacocke
Right: Making It Real Presenter Olga Meshoe Washington
Perhaps the sweetest parts of the event were the times between meetings. It was a joy to witness new friendships being formed, old friendships rekindled (there were two attendees that reunited after 20 years!), and strategic business and ministry connections made. Most importantly, people were able to connect with others who share the same passion for transformation and gain assurance that they are not alone in this fight for the Kingdom!
Left: Abigail Jones, Annette Ahalt, Tee Garlington, Bella Peacocke | Right: Joe Maceri, Adam Finger
Concurrent to the in-person gathering, GoStrategic also hosted our first-ever Livestream Transforum Event! Not only were participants able to watch the live sessions from home in real-time, they were also invited to connect via Zoom for discussion. These Zoom breakouts brought attendees together from around the world for discourse on the teachings, just as those who attended in person. Our Zoom group leaders reported that it was truly a blessed time of engagement with genuine interaction and reflection on the teachings.
Additional virtual events serving Africa (in English) and Central America (in Spanish) are coming up in November. Click here to register.
Left: Jan & Dennis Peacocke, Vishal & Ruth Mangalwati | Right: GoLife & GoBusiness Graduates
The closing evening in Dallas was a true celebration with our banquet and graduation ceremony. This year, we had the privilege of honoring 12 of our GoBusiness and GoLife graduates who were able to attend in person and participate in the ceremony. We extend our warmest congratulations to all of our new alumni!
Mastered MP3 audio recordings of the keynote session are available for purchase below. Whether virtually or in person, we hope to see YOU next year for Transforum 2022!
---
Commissioning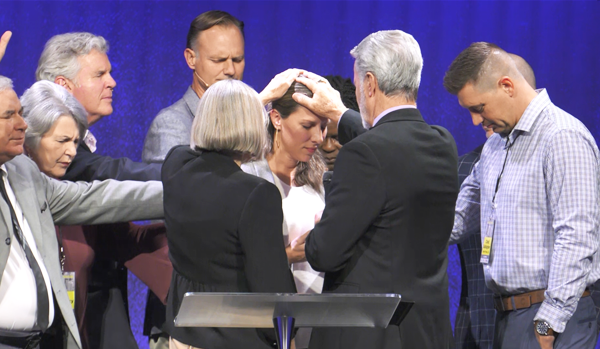 The official commissioning of GoStrategic Executive Director, Katherine Gallagher, into the role of Chief Executive Officer of GoStrategic took place at the Transforum event. It is the culmination of many years of investment, from her early days of helping out in the office after school, to her faithful service managing the organization under the leadership of her father, Dennis Peacocke. This passing of the baton from father to daughter is the principle of generational transfer in action, long a cornerstone and central teaching point of the ministry. Katherine has been preparing for and transitioning into this new role for some time now. We believe the commissioning ceremony represents not only a transfer of organizational leadership, but a significant Kingdom transaction in the Spirit, the transferring of a spiritual mantle, and the fulfillment of God's calling and placement.
GoStrategic board members were in attendance to pray in the momentous event, with international board members, David and Natalie Holmyard and Bruce Billington sharing recorded words of affirmation from their respective locations in Australia and New Zealand.
Chairman of the Board, Ken Negvesky, shared his prophetic sense of what was taking place and its greater implications for the ministry's future and those who have been influenced by it:
"This commissioning will release a new, deeper anointing and vision for the scope and influence of this ministry. I believe God is going to give much more and deepen the insight and the wisdom to perform it. It is going to be significant and impacting. The Lord is poised to move in and through all those who have been immersed in the teachings, schools, and ministry that GoStrategic has brought forth over the years. There is going to be a fresh impartation and transformation at a whole new level. I believe something is being released here tonight in the Spirit that will have a wave of implication for all those that have been connected to this ministry. It is a watershed moment—the exact moment that changes the direction of an activity or situation. It is a dividing point from which things will never be the same."
Dennis Peacocke reflected on the influential Kingdom leaders who had come before him. He explained that a measure of these great men's anointings had been transferred to him and that a measure was now being passed down to Katherine. As Dennis made the official transfer from father to daughter, he spoke the words, "I know you're going to take this where I couldn't. It should be that way."
Watch the full video here:
---
Celebrating 30 Years!
Watch our special School Anniversary Video highlighting 30 years of GoLife and 25 years of GoBusiness. A fuller-length video will be released later this year with additional footage!
---
Prayer
Your prayers are appreciated for:
Thank you for your faithful prayers and support!
---