Transforum Registration
September 23-25, 2021 | Dallas, Texas
Click to Register:
Early Bird Rates & Registration Deadlines:
Early Bird rates for in-person registration available thru July 8th (standard rates apply starting July 9th). Hotel+event package registration closes August 23rd. Event-only advance registration closes 2 weeks prior to event (September 9th), however, you may still register at the door.
All In-Person Registrations Include:
Full conference attendance
Three lunches (Thurs/Fri/Sat)
Thursday morning reception with light breakfast
Daily morning coffee service
Saturday evening celebration banquet
Registration Options:
1) In-Person Event-Only Registration (closes Sept. 9th; following that you must register at the door)
Individual Rate: $200 early bird | $215 regular rate | $230 at the door
Married Couple/Family Rate: $375 early bird | $400 regular rate | $425 at the door (applies to married couples or any 2 immediate family and household members attending together)
2) In-Person Event + Hotel Package Registration (closes Aug. 23rd)
Includes 3-night hotel accommodations (Thurs, Fri & Sat Nights) at the Hilton Dallas/Plano Granite Park Hotel and daily scheduled shuttle service to/from the hotel to/from Sojourn Church (event location). Check-in: 3pm | Check-Out: noon.
Single Occupancy: $679 early bird | $705 regular rate
Double Occupancy: $850 early bird | $920 regular rate
3) Livestream and Virtual Regional Events: We are excited to offer a variety of virtual options this year! Registrants will receive access to the recordings for 1 month following the event.
Livestream Registration WITHOUT Zoom Breakouts (still open!)
Livestream Registration WITH Zoom Breakouts (closed 9/21)
Global Regional Virtual Events Registration (varied deadlines)

For GoBusiness/GoLife students: Virtual attendance of the Transforum or regional events will fulfill the intensive requirement IF you watch all the sessions, attend all Zoom discussion breakouts, listen to recorded workshops (sent to you at no additional charge), and submitting a short summary paragraph for each workshop as proof of participation.
Event Auditing:
The Thursday & Friday evening sessions at 7pm may be audited by donation (show up at the door). Day session attendance is exclusive to full registrants with the exception of alumni auditing (NOW CLOSED).
Adjustments & Special Circumstances:
For hotel adjustments (such as adding on Wednesday night), payment plans, split payments between parties, or other special circumstances, please do NOT register online and do NOT contact the hotel; rather, call the GoStrategic offices at 707-578-7700.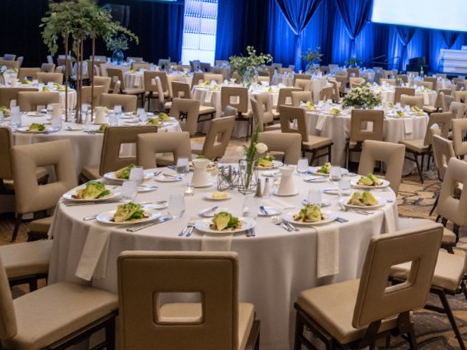 Celebration Banquet:
All full-event registrations INCLUDE a ticket to our Celebration Banquet on Saturday, September 25th at 6pm. Additional tickets for guests, grads, auditors, or friends not attending the main conference may be purchased a la carte HERE (CLOSED).
Event Refund Policy:
Cancellation by July 1: Full refund less a $10 processing fee
Cancellation by August 15: Full refund less a $50 cancellation fee
Cancellation after August 15: No refund; however reservation is transferable